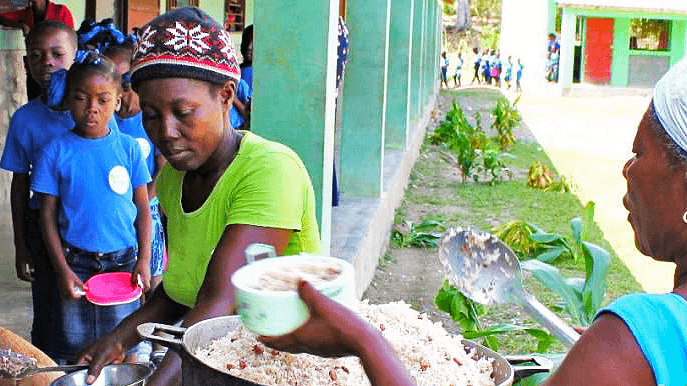 Food for Thought is a school nutrition program that provides school lunches and nutritional snacks to students in grades prekindergarten through 11.
In 2010, New Life for Haiti began building schools in the Grand Anse River valley of Haiti. After finishing the first three schools, the challenges of educating children suffering from malnutrition came to light. A school feeding program was instituted in 2013 to address the need for children to be well nourished in order to encourage the most effective educational outcomes and increase classroom learning.
At the next three schools New Life for Haiti built, a feeding program was also established when the school opened. Today, New Life for Haiti operates feeding programs at six of its seven schools, feeding approximately 1,000 students per week. (The seventh school is the Village of Hope Orphanage School, where each child receives regular meals.) At five of these schools, students receive a large hot meal comprised of beans, rice, and fish. This meal is prepared by volunteer parents in the community, who cook the meal on-site with ingredients provided to the school by New Life for Haiti.
At the School of Hope, where the most economically needy children attend, students are provided not only with the weekly meal but also a daily snack of Vita Mamba, a ready-to-use supplementary food (RUSF) fortified with vitamins and minerals, developed to help prevent malnutrition and increase classroom engagement.